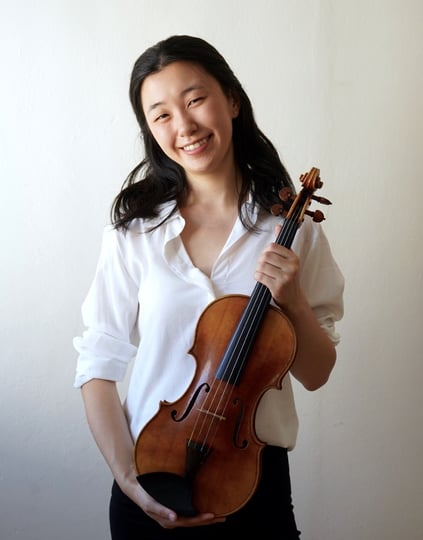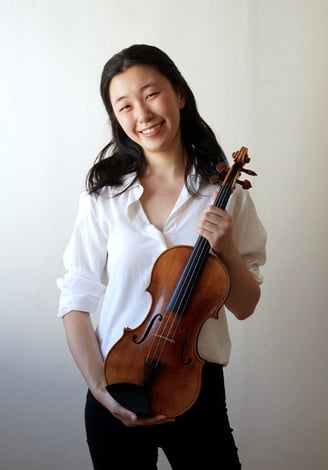 Praised for her sophisticated sense for sound, Canadian violinist Sarah Yang has performed across Canada and Europe as soloist, chamber musician and orchestral musician, and through her artistry she strives to be a messenger of relentless hope in our chaotic world.
In 2022, Sarah played as soloist with her university orchestra as well as the Vancouver Symphony Orchestra when she was seventeen years old. She was listed by the Canadian Broadcasting Company as one of the "30 Hot Classical Musicians under 30" at the age of twenty and she actively gives performances throughout Canada and Europe, also being on the roster for Yehudi Menuhin's Live Music Now in Cologne, Germany. She has toured with the National Youth Orchestra of Canada as concertmaster and has been concertmaster for all of her school orchestras as well as the Casalmaggiore International Festival Orchestra.
As a passionate chamber musician, Sarah has played an extensive range of chamber repertoire and is heavily involved in various ensembles and projects. She has played in concert with several prominent musicians, including with Scott St. John, Brian Manker, Steven Dann, Florence Millet and Werner Dickel, and is the violinist of the piano trio Trio Animato, based in Cologne. In addition, she is part of the new chamber orchestra Camerata Novoe Terrae which was founded in 2022 consisting of eager young professionals, and is a scholarship holder of the Deutsche Kammerakademie Neuss am Rhein. Outside of the traditional music scene, Sarah enjoys improvising, both solo and in various ensemble constellations, and exploring different ways of integrating music with other mediums of art.
Sarah is currently pursuing a Master's degree in solo violin at the renowned Hochschule für Musik und Tanz in Cologne, Germany under Michael Foyle, as well as a Master's degree in chamber music with Trio Animato at the same school under Anthony Spiri and David Quiggle. Previously, she studied with Carolin Widmann at the Hochschule für Musik und Theater "Felix Mendelssohn Bartholdy" Leipzig, where she received her Bachelor's degree with top marks, and in Vancouver studied under Taras Gabora and Lucia Schipperus. She has attended masterclasses with world-class musicians, such as Mihaela Martin, Heime Müller, Ulf Wallin, Ingolf Turban, Norman Fischer, Martin Chalifour and Oleg Pokhanavsky.
Sarah plays on a violin made by W.F. Porter in 1942 in Vancouver, Canada.
Visit Trio Animato